Roshae Roberts, PhD Candidate in INP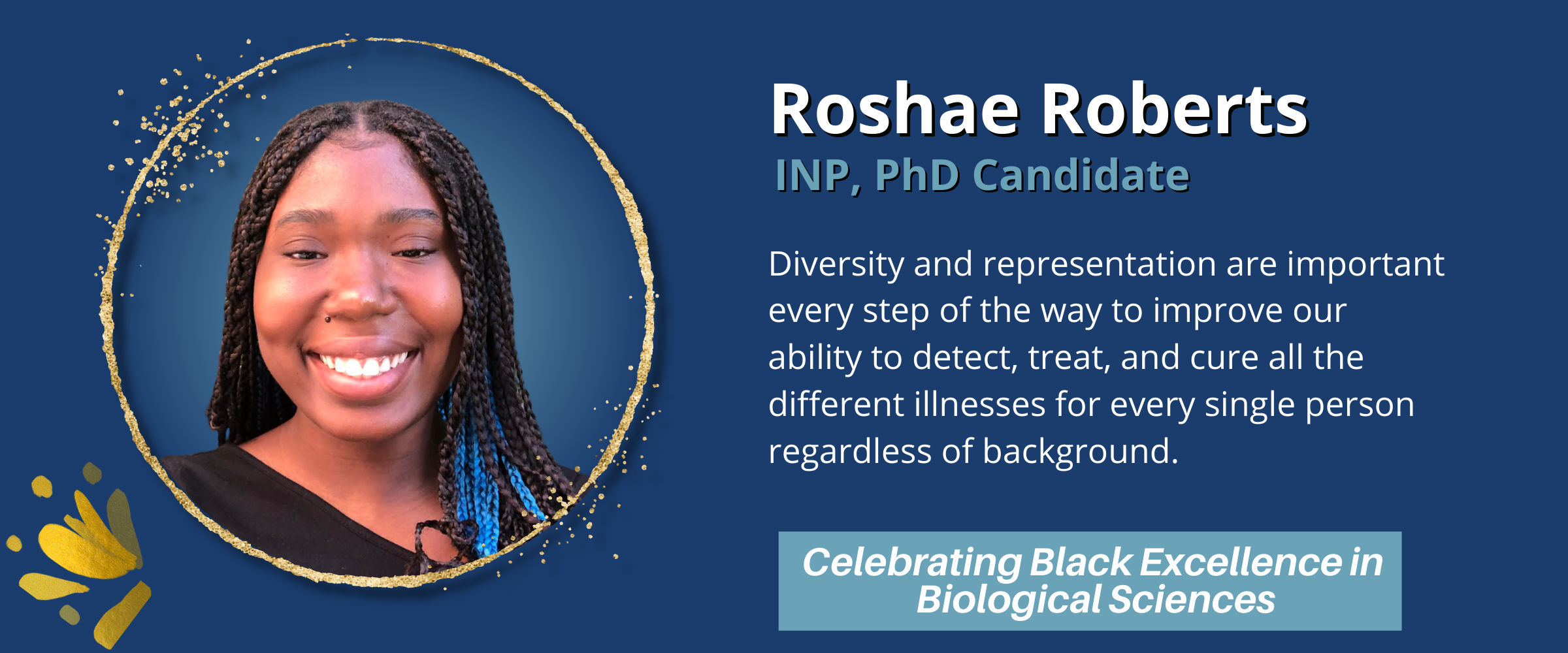 1. What inspired you to pursue a career in the biological sciences?
I chose to pursue a career in the biological sciences because I have always enjoyed math and science, and I wanted a career where I would be able to help people while doing what I enjoy.
2. Why did you choose BioSci?
I chose BioSci because the opportunities most aligned with my research interests align and I'll also have the opportunity to learn more about different career pathways.
3. Tell us about your research.
I'm currently rotating in the Mahler lab where I'm working alongside grad student Kate Lawson on a project investigating the role of the Paraventricular thalamus (PVT) in risky decision-making. This lab studies addiction, so modeling risky decision-making in animals is important as many people suffering from addiction must choose between their love for the drug and the risks such as developing health problems or neglecting responsibilities. The PVT is an ideal region because of its involvement in reward and motivational conflict as well as its implications in the way early life adversity shapes reward behavior.  We hope to understand the way in which the PVT impacts animal behavior when confronted with an opportunity to take risks to earn a reward and to uncover the influence of early life adversity.
4. What accomplishments are you most proud of?
I am proud to be the first in my family to graduate college especially now that I'm beginning my Ph.D. journey.
5. Can you speak to the importance of diversity and representation in the biological sciences?
Science in general has historically excluded different groups in society, but it is especially relevant in biological sciences because these exclusions directly impact health outcomes. Diversity and representation are important every step of the way to improve our ability to detect, treat, and cure all the different illnesses for every single person regardless of background.
6. What advice would you give to young black students interested in pursuing a career in the sciences?
If you have a dream, you can do it. Just find your people, remember to advocate for yourself, and don't tell yourself 'no' before they do.
7. Can you speak to any initiatives or programs that have been helpful to you as a scientist?
Undergraduate research programs, LSAMP, and the Cientifico Latino program were all helpful to me along my journey.
8. Can you tell us about a role model or mentor who has been influential in your career as a scientist?
My mentor during the Cientifico Latino program, Rob Fernandez, was helpful in guiding me during the grad school application period and was a listening ear whenever I encountered difficulties along the way. Being an immigrant and a first-generation college student, it was a good experience to be supported by someone who had a similar background who had made it to where I'd like to be.
9. What is your favorite hobby or activity outside of work?
I love a good show, and I also enjoy roller-skating and going to the beach.