Onwodi Victoria Ifejeokwu, INP PhD Candidate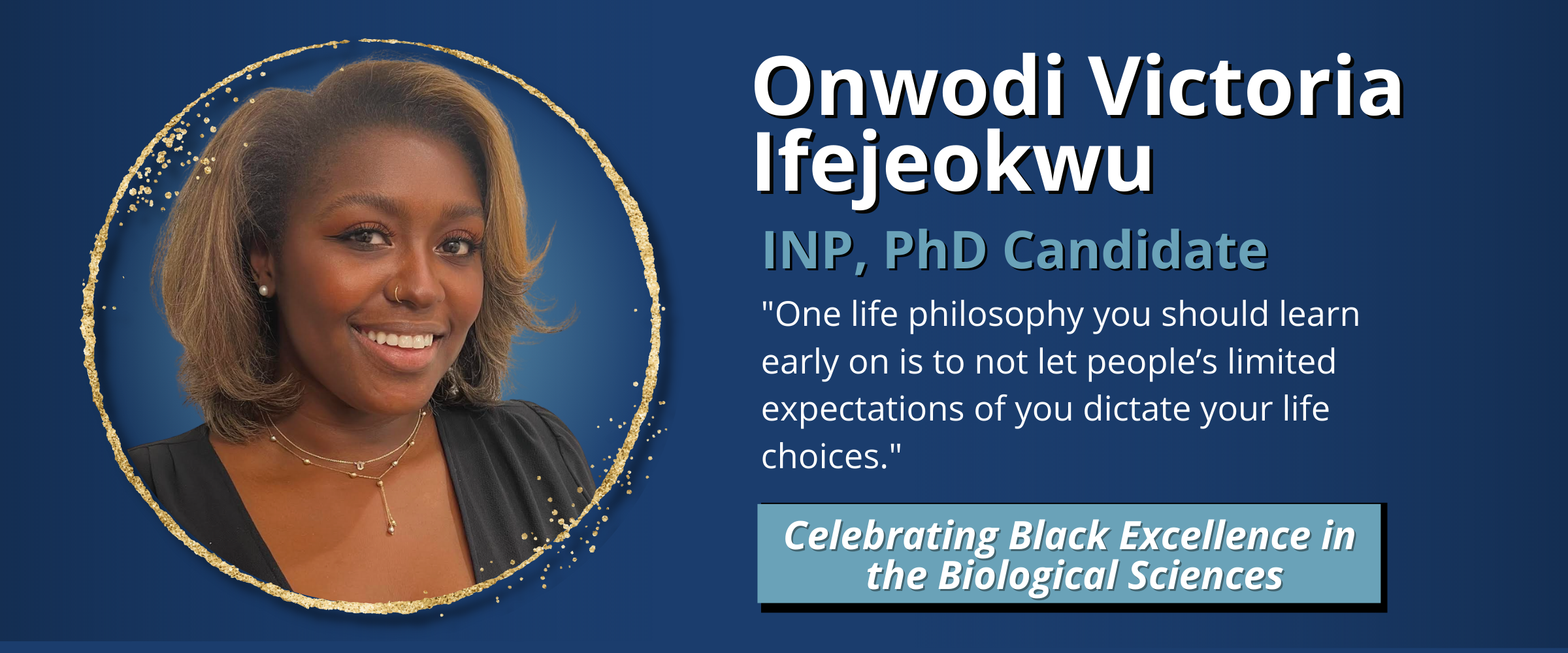 1. What inspired you to pursue a career in the biological sciences?
Pursuing a career in the biological sciences allows me to fulfill my dream to make meaningful contributions towards translational medicine. I can contribute to the discovery of disease mechanisms and tractable strategies to thwart them, as well as improve quality of life for patients.
2. Why did you choose BioSci?
I chose BioSci because of the talented faculty within the department with labs that heavily focus on neuroimmunology research.

3.Tell us about your research.
It has been well established that the traditional methods of combating cancer (chemotherapy and cranial irradiation) lead to the development of brain fog (cognitive impairments). During my rotation in Dr. Munjal Acharya's lab, I am leading a pilot study that seeks to determine the neurobiological mechanism(s) leading to cognitive decline following treatment with a recently developed cancer therapy, immune checkpoint inhibition, and whether the use of stem cell-derived extracellular vesicles can mitigate some of the brain injury.
4. What accomplishments are you most proud of?
In 2020, myself and four other alumni of color joined together to create a petition titled Tulane Takes Ten for Racial Inclusivity which called out my alma mater, Tulane University, for its lack of outreach and accessibility to underrepresented and low-income students from the New Orleans community. Tulane is located in a predominantly Black community yet less than 10% of the students at Tulane are Black. We felt it was time for a much-needed change. The petition resulted in the Louisiana Promise in which Tulane committed to providing pre-college programs for first-generation students and students without access to college counseling and a guarantee to provide scholarships for admitted Louisiana resident freshmen who have graduated from a Louisiana high school with a gross family income of less than $100,000.

5. Can you speak to the importance of diversity and representation in the biological sciences?
Good experimental design accounts for a meaningful range of samples that enables a wholly representative narrative. Exclusion of smaller, though important, samples might lead to errors in interpretation. This is likewise true of diversity within the scientific community. Including minds who emerge from very different backgrounds allows for more perspectives and a more penetrating scientific reach.
6. What advice would you give to young black students interested in pursuing a career in the sciences?
One life philosophy you should learn early on is to not let people's limited expectations of you dictate your life choices. I remember a professor at Tulane told me that I should consider a career outside of science. Well look at me now.
7. Can you speak to any initiatives or programs that have been helpful to you as a scientist?
N/A
8. Can you tell us about a role model or mentor who has been influential in your career as a scientist?
Dr. Frances Mercer has been a particularly influential role model and mentor in my career as a scientist. It was in her class that I fell in love with immunology and decided to not only pursue a neuroscience PhD but to also choose a lab that specializes in neuroimmunology research.
9. What is your favorite hobby or activity outside of work?
My favorite hobby is going to dance classes at the gym. I also love gardening. My parents have over 70 fruit trees on their property, and I enjoy spending the afternoon strolling through the trees, pruning them, and picking fruit.