Mariah Christine Hernandez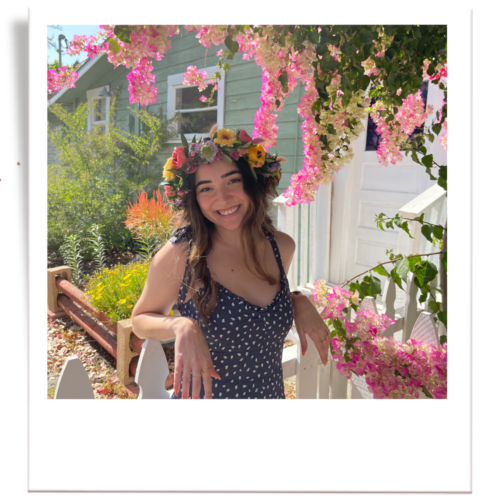 1. Why did you choose to attend UCI?
During the process of transferring from a community college, I researched various programs that best aligned with my ambitions. Ultimately, I valued UC Irvine's dedication to providing exceptional academic programs and commitment to pursuing cutting-edge research. I was impressed by our distinguished courses in biological sciences and humanities. I also appreciated the various ways to become involved through research, leadership, and service organizations. I was especially influenced by the proximity of the medical campus, and the associated opportunities available to pre-health students.
2. What inspired you to pursue a degree in the biological sciences?
I have always been drawn to the natural world and its mechanisms. When choosing a major, I recognized that studying biology would allow me to delve into multiple disciplines and acquire a comprehensive understanding of the interconnections of life. Such a curriculum would provide me with the opportunity to explore my interests in biological processes and disease. Pursuing a degree in biological sciences at UCI has enabled me to develop a deeper appreciation of the world around me, while also equipping me with the necessary knowledge and skills to pursue a career in medicine.
3. What are some of your favorite study habits or tips for success in college?
I have benefited from active recall and spaced repetition study methods. Both techniques enable me to move beyond passive learning and engage more effectively with my coursework. By reviewing material throughout the quarter, I am able to avoid the last-minute cramming that often leads to procrastination. Valuable resources that utilize these methods include Quizlet and Anki–both are solid for studying and reviewing topics! Additionally, I recommend attending weekly office hours to ask questions and clarify any confusion you may have in the course.
4. What accomplishments are you most proud of?
As a previous community college student, one of my biggest accomplishments has been transferring to UCI! Beyond this, I am proud of founding Transfers in BioSci to create a community that amplifies transfer voices and embraces our identity.
5. Can you speak to the importance of diversity and representation in the biological sciences?
Diversity and representation are crucial to the field of biology because they can foster an inclusive environment that celebrates individuals from diverse backgrounds, which in turn will promote more innovative and impactful discoveries. By bringing different perspectives to the field, we can gain a comprehensive view of biology, especially with respect to combatting health disparities. Ultimately, we can break away from systemic inequalities and barriers that affect underrepresented groups, and inspire future generations from all backgrounds to pursue careers in science.
6. What advice would you give to incoming college students interested in pursuing a degree in the sciences?
One piece of advice I would give to incoming college students is to try new things! It can be intimidating to step out of your comfort zone, but doing so can broaden your experiences and help you discover new interests. Whether it's attending a club meeting or applying for an internship, take advantage of the opportunities available to you. If you don't know where to start, don't be shy! There are plenty of resources and people here who more than willing to help you out. Your time in college is limited, and you never know what may happen when you put yourself out there, so dream big and go for it!
7. Can you speak to any initiatives or programs that have been helpful to you as a student in STEM?
There have been multiple programs that have been integral to my UCI undergraduate career! This includes Bio 199 Research, the Transfer Student Center, the Undergraduate Research Opportunities Program, BioSci Peer Tutoring, and the Writing Center for Excellence & Communication.
8. Can you tell us about a role model or mentor who has been influential in your career as a scientist?
My mom is my biggest role model and mentor in life, as she has played an important role in shaping my undergraduate career. From a young age, she embraced my interest in science and encouraged my young mind to pursue knowledge with passion and curiosity. In turn, this sparked many visits to the library and to science museums. Through her unwavering determination and resilience, my mother has taught me invaluable lessons about perseverance and commitment, even in the face of adversity. As an educator, she is fearless, driven, and has a compassionate and selfless nature that makes her a role model and mentor to countless people. Words cannot describe how grateful I am for the constant support and mentorship my mother has provided me throughout my undergraduate education. Her guidance and encouragement have been instrumental in helping me reach where I am today, and I owe so much of my success to her. I am incredibly proud to be her daughter, and I hope to embody and carry forth the values and lessons she has imparted to me throughout my life and career.
9. What is your favorite hobby or activity outside of work?
Some of my favorite hobbies include baking, hot yoga, playing with my cats, and listening to music.
10. Your personal website or social media that you would like to share:
Shoutout to Transfers in BioSci! (@tbsatuci on Instagram)