---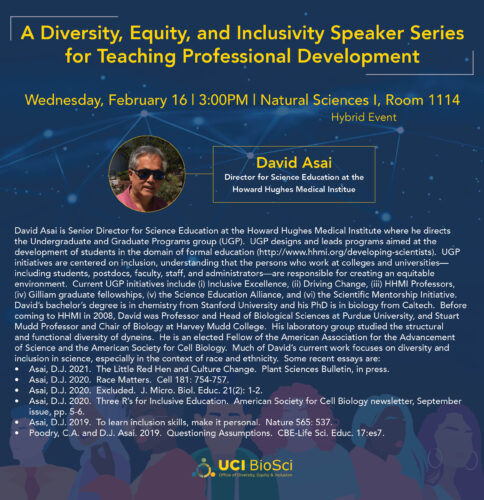 David Asai is Senior Director for Science Education at the Howard Hughes Medical Institute where he directs the Undergraduate and Graduate Programs group (UGP).  UGP designs and leads programs aimed at the development of students in the domain of formal education (http://www.hhmi.org/developing-scientists).  UGP initiatives are centered on inclusion, understanding that the persons who work at colleges and universities—including students, postdocs, faculty, staff, and administrators—are responsible for creating an equitable environment.  Current UGP initiatives include (i) Inclusive Excellence, (ii) Driving Change, (iii) HHMI Professors, (iv) Gilliam graduate fellowships, (v) the Science Education Alliance, and (vi) the Scientific Mentorship Initiative.  David's bachelor's degree is in chemistry from Stanford University and his PhD is in biology from Caltech.  Before coming to HHMI in 2008, David was Professor and Head of Biological Sciences at Purdue University, and Stuart Mudd Professor and Chair of Biology at Harvey Mudd College.  His laboratory group studied the structural and functional diversity of dyneins.  He is an elected Fellow of the American Association for the Advancement of Science and the American Society for Cell Biology.  Much of David's current work focuses on diversity and inclusion in science, especially in the context of race and ethnicity.  Some recent essays are: 
Asai, D.J. 2021.  The Little Red Hen and Culture Change.  Plant Sciences Bulletin, in press.

Asai, D.J. 2020.  Race Matters.  Cell 181: 754-757.

Asai, D.J. 2020.  Excluded.  J. Micro. Biol. Educ. 21(2): 1-2.

Asai, D.J. 2020.  Three R's for Inclusive Education.  American Society for Cell Biology newsletter, September issue, pp. 5-6.

Asai, D.J. 2019.  To learn inclusion skills, make it personal.  Nature 565: 537.

Poodry, C.A. and D.J. Asai. 2019.  Questioning Assumptions.  CBE-Life Sci. Educ. 17:es7.
Please register if you are attending in-person.