Extraordinary MSP Achievements at National Conferences in 2021-2022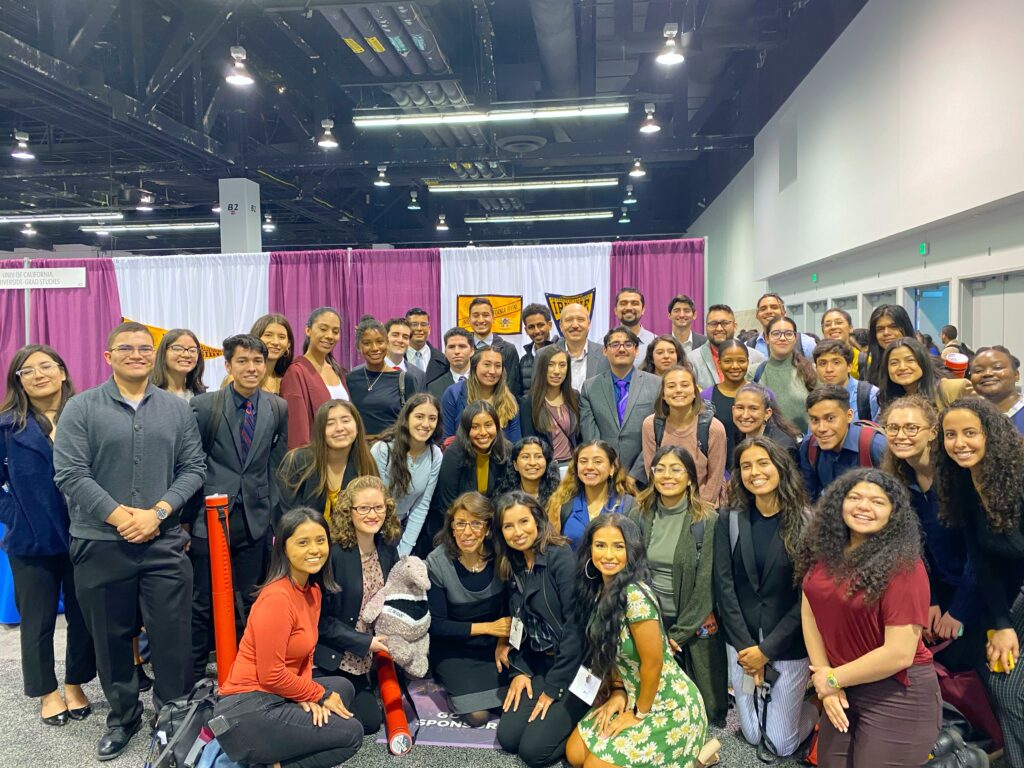 Each year, students in the Minority Science Programs (MSP) travel to national conferences to present their research and share their passions with the academic research community. UCI's students regularly set new records for the number of awards they receive, a testament to the quality of their research and their honed presentation skills. Last year was no different, with a phenomenal 30 conference awards.
Below is a list of students, their advisors, the conferences attended and the awards received. Congratulations to all of the award winners and to the MSP leadership, Drs. Luis Mota-Bravo and Marlene De la Cruz!
| | | | |
| --- | --- | --- | --- |
| Student Name | Award | Conference | Faculty Advisor |
| Lizeth Guttierrez | Honorable Mention: Cell Biology | 2022 American Association for the Advancement of Science (AAAS) | Dr. Luis Mota-Bravo |
| Sarah Batarseh | Honorable Mention: Biochemistry and Molecular Biology | 2022 American Association for the Advancement of Science (AAAS) | Dr. Brandon Gaut |
| Sandra Sandria | Honorable Mention: Brain and Behavior | 2022 American Association for the Advancement of Science (AAAS) | Dr. Autumn Ivy |
| Camryn Zurita | First Place: Medicine and Public Health | 2022 American Association for the Advancement of Science (AAAS) | Dr. Luis Mota-Bravo |
| Sophia Aredas | Poster Category: Physiology and Pharmacology | 2021 Annual Biomedical Research Conference for Minority Students (ABRCMS) | Dr. Luis Mota-Bravo |
| Rosanna Burgos Pujols | Poster Category: Neuroscience | 2021 Annual Biomedical Research Conference for Minority Students (ABRCMS) | Dr. Oswald Steward |
| Melissa Campos | Poster Category: Biochemistry and Molecular Biology | 2021 Annual Biomedical Research Conference for Minority Students (ABRCMS) | Dr. Luis Mota-Bravo |
| Angelique Espino | Poster Category: Engineering, Physics and Mathematics | 2021 Annual Biomedical Research Conference for Minority Students (ABRCMS) | Dr. Elliot Hui |
| Delice Katula | Poster Category: Biochemistry and Molecular Biology | 2021 Annual Biomedical Research Conference for Minority Students (ABRCMS) | Dr. Luis Mota-Bravo |
| Kaley Mitchell | Poster Category: Physiology and Pharmacology | 2021 Annual Biomedical Research Conference for Minority Students (ABRCMS) | Dr. Daniele Piomelli |
| Jesse Murrillo | Poster Category: Computational and Systems Biology | 2021 Annual Biomedical Research Conference for Minority Students (ABRCMS) | Dr. Luis Mota-Bravo |
| Cristabel Portillo | Poster Category: Developmental Biology and Genetics | 2021 Annual Biomedical Research Conference for Minority Students (ABRCMS) | Dr. Luis Mota-Bravo |
| Alejandra Reyes | Poster Category: Physiology and Pharmacology | 2021 Annual Biomedical Research Conference for Minority Students (ABRCMS) | Dr. Luis Mota-Bravo |
| Arturo Salazar | Poster Category: Microbiology | 2021 Annual Biomedical Research Conference for Minority Students (ABRCMS) | Dr. Luis Mota-Bravo |
| Celeste Sanchez | Poster Category: Developmental Biology and Genetics | 2021 Annual Biomedical Research Conference for Minority Students (ABRCMS) | Dr. Luis Mota-Bravo |
| Vanessa Saldivar | Poster Category: Biochemistry and Molecular Biology | 2021 Annual Biomedical Research Conference for Minority Students (ABRCMS) | Dr. Celia Goulding |
| Sandra Sandria | Poster Category: Neuroscience | 2021 Annual Biomedical Research Conference for Minority Students (ABRCMS) | Dr. Autumn Ivy |
| Isabel Vargas | Poster Category: Cell Biology | 2021 Annual Biomedical Research Conference for Minority Students (ABRCMS) | Dr. Luis Mota-Bravo |
| Camryn Zurita | Poster Category: Cell Biology | 2021 Annual Biomedical Research Conference for Minority Students (ABRCMS) | Dr. Luis Mota-Bravo |
| Shania Day | First place in Cell Biology and Biochemistry | 2021 Sigma Xi The Scientific Research Honor Society | Dr. Naomi Morrissette |
| Lizeth Guttierrez | First place in Environmental Sciences | 2021 Sigma Xi The Scientific Research Honor Society | Dr. Luis Mota-Bravo |
| Casadora Boone | Second Place in Cell Biology | 2021 American Association for the Advancement of Science (AAAS) | Dr. Luis Mota-Bravo |
| Francisco Brenes | Third Place in Technology, Engineering and Math | 2021 American Association for the Advancement of Science (AAAS) | Dr. Anna Grosberg |
| Angelique Cortez | Second Place in Developmental Biology Gentics and Immunology | 2021 American Association for the Advancement of Science (AAAS) | Dr. Ali Mortazavi |
| Christian Checkcinco | Third Place in Cell Biology | 2021 American Association for the Advancement of Science (AAAS) | Dr. Bruce Blumberg |
| Marina Edward | Third Place in Brain and Behavior | 2021 American Association for the Advancement of Science (AAAS) | Dr. Susana Cohen-Cory |
| Clarisa Martinez | First Place in Environment and Ecology | 2021 American Association for the Advancement of Science (AAAS) | Dr. Luis Mota-Bravo |
| Marize Rizkalla | First place in Medicine and Public Health | 2021 American Association for the Advancement of Science (AAAS) | Dr. Luis Mota-Bravo |
| Rosa Guadalupe Serrano | Second Place in Brain and Behavior | 2021 American Association for the Advancement of Science (AAAS) | Dr. Marcelo Wood |
| JoAnne Villagrana | Third Place in Enviornment and Ecology | 2021 American Association for the Advancement of Science (AAAS) | Dr. Luis Mota-Bravo |