Dequina Nicholas: Assistant Professor, Molecular Biology and Biochemistry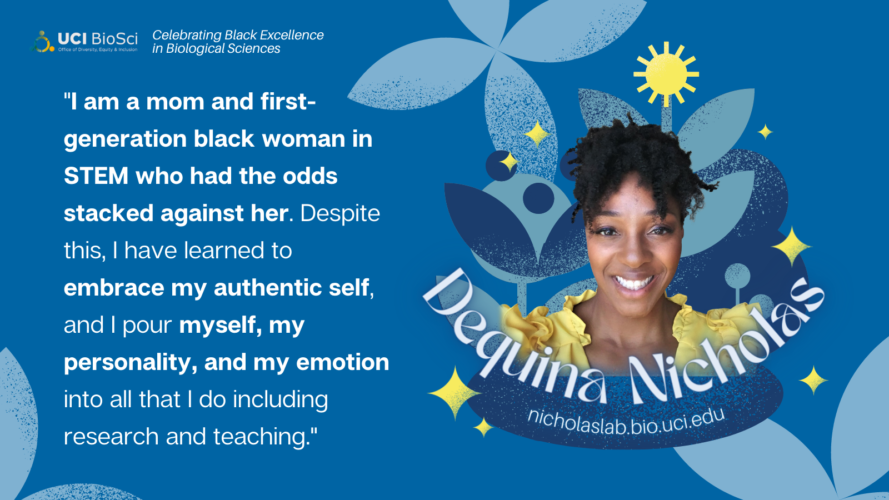 1. How did you get into the field?
Both my mom and grandma have Type 2 diabetes, a very common disease in the black community. In graduate school, I sought out a lab that studied diabetes. At the time, I didn't know that there were different types of diabetes, and I naively joined a lab that studied Type 1 diabetes, a form of diabetes cause by our immune system! That's how I go introduced to immunology. It was a wrap. From then on, I knew I had to be an immunologist and now my lab studies how the immune system impacts the progression of endocrine diseases, one of which is type 2 diabetes.
2. Tell us a little bit about your research.
My lab focuses on two endocrine disease, Type 2 diabetes and polycystic ovary syndrome. Type 2 diabetes is a disease of high blood sugar associated with issues producing or using insulin, the hormone that allows our cells to take up sugar. Polycystic ovary syndrome, or PCOS, is a multifaceted disease in women of childbearing age where reproductive hormones become unbalanced, which in turn can cause infertility. Chronic inflammation is at the core of both of these diseases. Our lab uses animal and human samples to answer three questions. 1)How does chronic inflammation contribute to disease? 2)What is the cause and source of inflammation? and 3) Can we leverage the immune system to treat disease?
3. What accomplishments are you most proud of?
It would be easy to talk about career accomplishment like grants or papers that I have published, but I think what I am most proud of is my character development across my academic journey.
I am a mom and first-generation black woman in STEM who had the odds stacked against her. Despite this, I have learned to embrace my authentic self, and I pour myself, my personality, and my emotion into all that I do including research and teaching. I am proud of my ability to remain relatable to my students, trainees, and colleagues.
I used to debate my hair styles before important research talks, because some people deemed natural black hair styles non-professional. Now I proudly wear my natural hair however I choose.
For a time, I got rid of my extremely bright wardrobe. Now I flaunt the brightest colors and have happily painted my office pink and yellow. I used to try to "sound like a scientist" when presenting my research in grad school. Now I am unapologetically me with every presentation. I am changing "what a scientist sounds like."
I am most proud of taking my lived experiences and using them to mentor my trainees on their academic journey. Seeing the success of my mentees is everything. Every standard accomplishment – grants, paper, promotion, awards – is for those who come after me. It is my hope that students from all backgrounds can see themselves reflected in me and have the confidence to be successful in science too.
4. Tell us a little bit about your journey? What important lessons have you learned along the way?
My journey has been interesting to say the least.
As a first-generation student, my parents wanted me to go to medical school. After shadowing medical doctors in the emergency department at a hospital, I knew med school was not for me. I had no clue what I was going to do after undergrad, but thankfully, the brother of a friend of my mom (Iol) told me about graduate school and research at Loma Linda University in California.
At the time, I was in Florida and decided to apply with his support. In grad school, I had some very supportive mentors, but found that from day one, I was battling negative stereotypes about minorities. I channeled that negative energy into productivity and changed some minds along the way.
After grad school, I did a post-doc in Boston, followed by a post-doc in San Diego. There are so many stories I could tell about my journey, but one important lesson I learned was not to listen to the haters. Don't worry about others opinion of you, just work hard. In due time, haters will have to take back their words, and even if they don't it doesn't matter. The best revenge is being successful. Another lesson I learned is to reach out and ask for help. The worse answer you can get is no. Lastly, take initiative and look for opportunities. Once you find opportunities or they are presented to you, take advantage of them. Seizing opportunities will bode well for you throughout your career.
5. Who do you look up to? What is your source of inspiration?
I look up to multiple mentors that I have had in my academic career. One in particular, Dr. Barbara Nikolajczyk, really inspired me. While in grad school, the disparities of success for women became very obvious to me. I truly believed that to succeed as a minority female in science, I would have to conform to what was expected of me, that there was little room for hobbies and personal life, and really that I couldn't be my authentic self and be taken seriously. Meeting Dr. Nikolajczyk was a breath of fresh air.
Here was this baddie female scientist, who took vacations, spent time with her family, had a big personality, and was well respected by her colleagues. I did a post-doc with her and under her mentorship, my confidence and surety in who I am blossomed. She listened to Beyoncé in her office while working, she put me on Hamilton, she taught me about academic politics, all while being an amazing mom. She really does inspire me, and against all odds, I want to show the world that yes, I am an amazing scientist, but I am also much more.
6. What is your favorite hobby or activity outside of work?
I'd have to say dancing, CrossFit and baking. I grew up with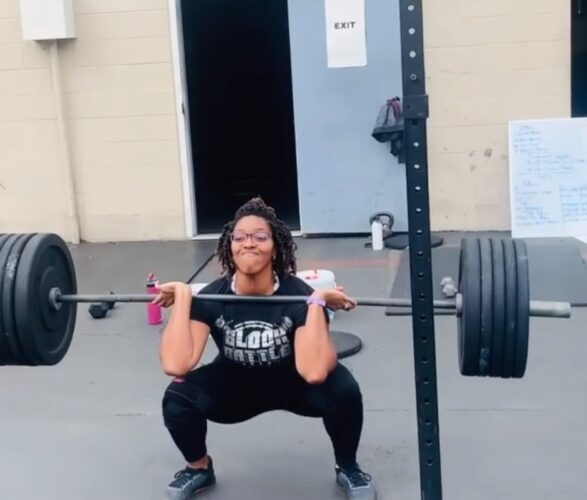 family that loves to dance, whether at home, at a party, or at a
family gathering. It's in my blood. In grad school, I learned Latin dances (salsa, bachata, cumbia, cha cha) and absolutely fell in love. I danced with performance groups all through graduate school and even had my PI come to one of my showcases. I still dance now, but just less often.
In addition to dancing, I have a passion for fitness, specifically CrossFit. There is something so empowering about knowing I can lift heavy weight. I currently have a 325-pound deadlift, which made moving new equipment in my lab very easy. The last hobby I really enjoy is baking. I love baking items for my lab members, especially for birthdays. I get much of my baking inspiration from seasonal and local fruits. Of course in the fall, I do pumpkin everything from pies and bread to cookies and homemade pumpkin spice lattes.
7. What is your favorite comfort food?
Grilled peanut butter and jelly sandwiches. In undergrad during exam weeks, the university used to pull out a giant griddle by the student center and serve the students free grilled PB&Js. You really haven't eaten a PB&J until you have had it grilled. It is sooo good. This has become a guilty pleasure staple for me. Anytime I eat one, I go to a happy place. After a stressful day, I look forward to a late night grilled PB&J!
8. What types of music do you enjoy listening to?
If Beyoncé was a category, I would say all of her music is my favorite. I literally have a Beyoncé song for every phase of my life and academic career. Just to give you a flavor, "Feeling Myself" was my hype song before my dissertation defense. When I need a push during grant writing I listen to "Formation." When I first started my faculty position, I literally rolled into work playing "Boss" for a month! Other than Beyoncé, I generally enjoy listening to R&B, Gospel, Rap and HipHop, Bachata, Soca, Calypso and everything Disney!
9. If you could give one piece of advice to young Black scholars getting into life sciences what would it be?
There is a space for you in science. You do not have to compromise who you are. Your authentic self and the perspectives and ideas you bring to the table are valuable. Do not waste your time and effort with people that do not see your value, instead seek support from those who know your worth.
10. Could you please share your social media handles?
Twitter: @QuinaScience
Instagram: @NicholasLab
LinkedIn: https://www.linkedin.com/in/dequina-nicholas/
Your lab or personal website that you would like to share:
https://nicholaslab.bio.uci.edu/