---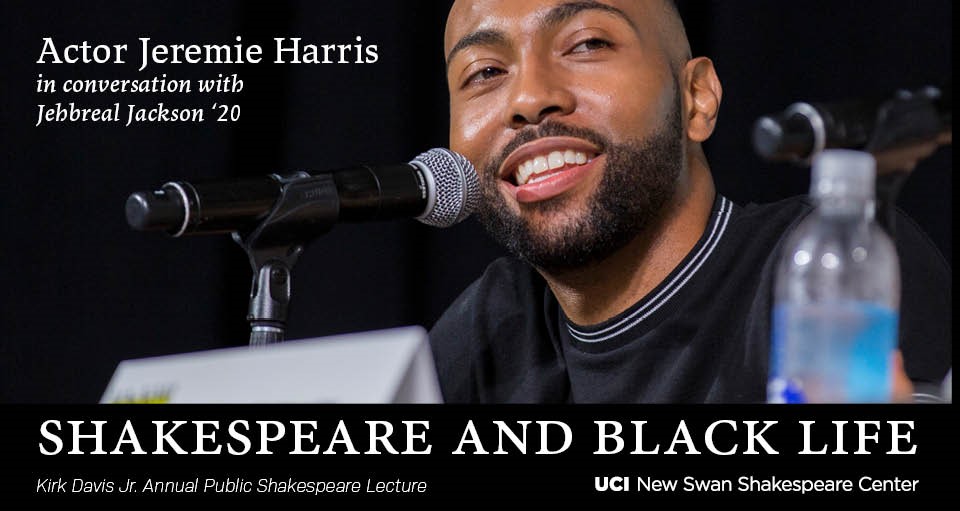 Shakespeare and Black Life: Actor Jeremie Harris in Conversation with Jehbreal Jackson '20
Online events presented by UCI Illuminations
April 22, 5:00 p.m. to 6:00 p.m.
About this event:
Kirk Davis Jr. Public Shakespeare Lecture
In this public conversation, Jeremie Harris will discuss his role as Claudio in New York Public Theatre's 2019 production of Much Ado About Nothing, which featured an all-Black cast and was set in Atlanta during Stacy Abrams' campaign for governor of Georgia. We will share clips from the production. Mr. Harris will be in conversation with Jehbreal Jackson, MFA Dance '20.
Jeremie Harris is an American actor who has appeared in television, film, and stage productions. He played Ptonomy Wallace in FX's Legion and Langston Hughes in the 2015 film Bessie. He plays Leon Bittle in Season Four of Fargo. He studied acting at New York University and The Julliard School.
Jehbreal Jackson '20 is an artist and scholar who writes, choreographs, and directs story ballets for film while studying the intersections of cognition, choreography and William Shakespeare. He received his BFA in dance from The Juilliard School, his MFA in dance from UC Irvine, and is currently pursuing his PhD in Theater at Columbia University.
Both Jeremie Harris and Jehbreal Jackson performed in Samora Pinderhughes' Transformations Suite album. Continuing in the tradition of artists like Bob Marley, Duke Ellington, Marvin Gaye, Billie Holiday, and Tupac Shakur, The Transformations Suite paints a musical picture of the current state of social inequality and injustice in the United States and beyond.
For more information, click here.